Have you always wished you could serve up a dessert just like a professional chef in a top restaurant? One of those dishes that make people gasp when you put it in front of them? For years I wondered how to make this amazing easy chocolate bowls and finally Bethany from @lilsipper came along to show us exactly how to do it. The big surprise? It's super easy. Now you too can wow your friends with this easy dessert.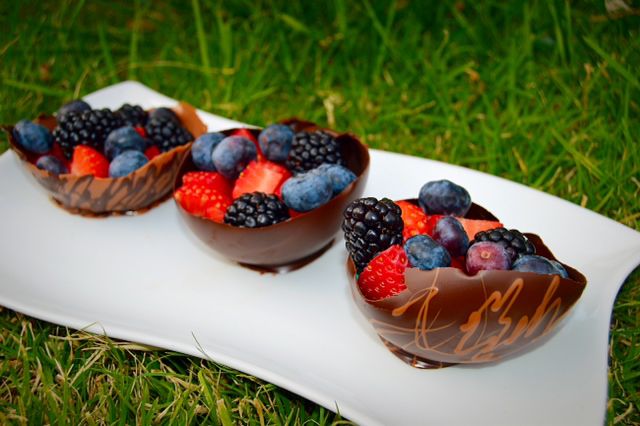 Easy Chocolate Bowls
1 cup chocolate of choice
small berries of choice (blueberries, blackberries, strawberries, raspberries)
regular balloons (not water balloons)
Melt chocolate of choice bain-marie style. Blow up balloons (about the size of a small grapefruit or very large orange)
Dip balloons in chocolate and set on wax paper and place in freezer for about 15 minutes or until they harden.
Remove from freezer and pop balloons FAST with a sharp knife/needle (do not pinch with scissors as this will make them deflate slowing).
Fill with berries and serve immediately!
You can further wow your friends with this easy chocolate bowls by filling the bowls with all sorts of yummy goodness. Did someone say ice cream?
This awesome idea is by Bethany from @Lilsipper. Enjoy this recipe and so many others in Part 2 of the Purple Edition of Healthy Mama Magazine. Enjoy your FREE subscription below…x
---
Enjoy Your Full FREE Subscription to Healthy Mama Magazine Today!
Join 1000's of mama's who are creating the best possible health for their families and their little happy souls.
[x_subscribe form="2864″]
OR