This might sound crazy but rice paper rolls would have to be one of my all time favorite foods. Why? Well, they're DELICIOUS!! And, super easy to make as they're mostly raw and everyone can make their own versions…and my son loves them…so many reasons to love these little bite sized parcels of goodness 🙂
We had some friends over for dinner the other night and I just chopped, grated and diced a whole bunch of veggies, made a few different sauces and it looked amazing. Everyone gets involved and so many delicious and not so pretty variations are created! Sometimes I get a little excited and fill with way too many ingredients. The trick is to just put a tiny bit of everything and you don't need to put everything in at once to make the perfect roll.
This recipe calls for a peanut dipping sauce with the rice paper rolls but I also dip it in a tahini, lemon & garlic sauce, sweet chili, sweet soy, soy or even a yoghurt lemon garlic sauce. The options are truly endless with these babies…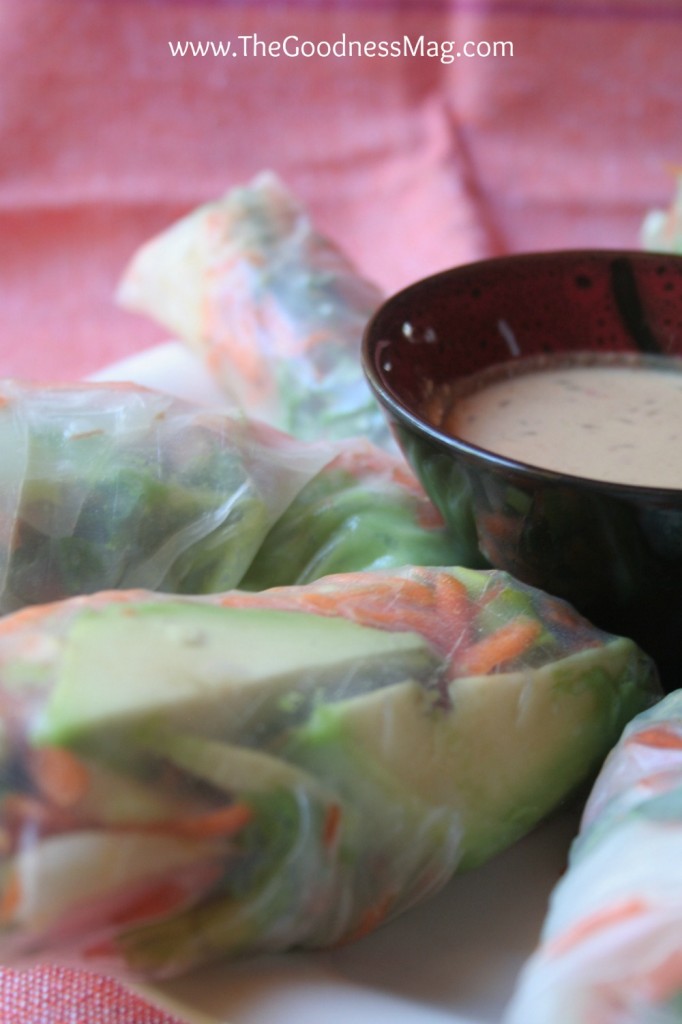 Vegan Rice Paper Rolls
A few sheets of round rice paper (from Asian grocer or regular grocer)
Carrot, grated
Cucumber, thinly sliced
Celery, thinly sliced
Zucchini (I use the grater to make super long strands grating using the long side..who needs a mandolin?!)
Avocado
Vermicelli (thin rice noodles)
Herbs herbs herbs – I love coriander (cilantro), mint and basil in mine
Tofu (thinly slicked and sauteed in sweet chili and soy – OPTIONAL)
Any other veggies that take your fancy
Peanut Dipping Sauce
3 tablespoons of fresh peanut butter (you know the ones at the health food store that they make in store?)
1 teaspoon honey
1/2 lime juice
chili (optional)
water as needed for desired consistency
Note: To make this recipe paleo, just replace the peanut butter with 1 tablespoon of tahini – actually this is my favorite 🙂
Place near boiling water in a large shallow pot/pan/bowl and place your sheet of rice paper in there very briefly to soften. If the water is too hot, the paper will shrivel very quickly, if the water is too cold, the paper won't soften and when it finally does, it doesn't stick…so the warmer the better.
Gently lay the paper on a wooden chopping board or rice paper roller (I don't have any of these fancy shmancy things…yet:)
Place just one or two of each of your ingredients in the middle of the paper.
Roll once in the middle, then each of the sides and then finish off the roll. It should stick together nicely.
The first few may look disasterous but you'll get the hang of it quickly!
Dip in your favorite sauce and enjoy immediately:) We had ours with some grilled corn, olive oil and salt…YUM!!
By Bamik H
---