T
his has fast become one of my FAVE burger recipes! The flavor is full of umami depth from the nuts, tamari, and sun-dried tomatoes – perfect for the kids. They taste fantastic paired with sliced avocado in burger buns, or wrapped in whole-grain tortillas!
Umami sun-dried tomato and almond burgers
By Dreena from Plant Powered Families | Makes about 6 patties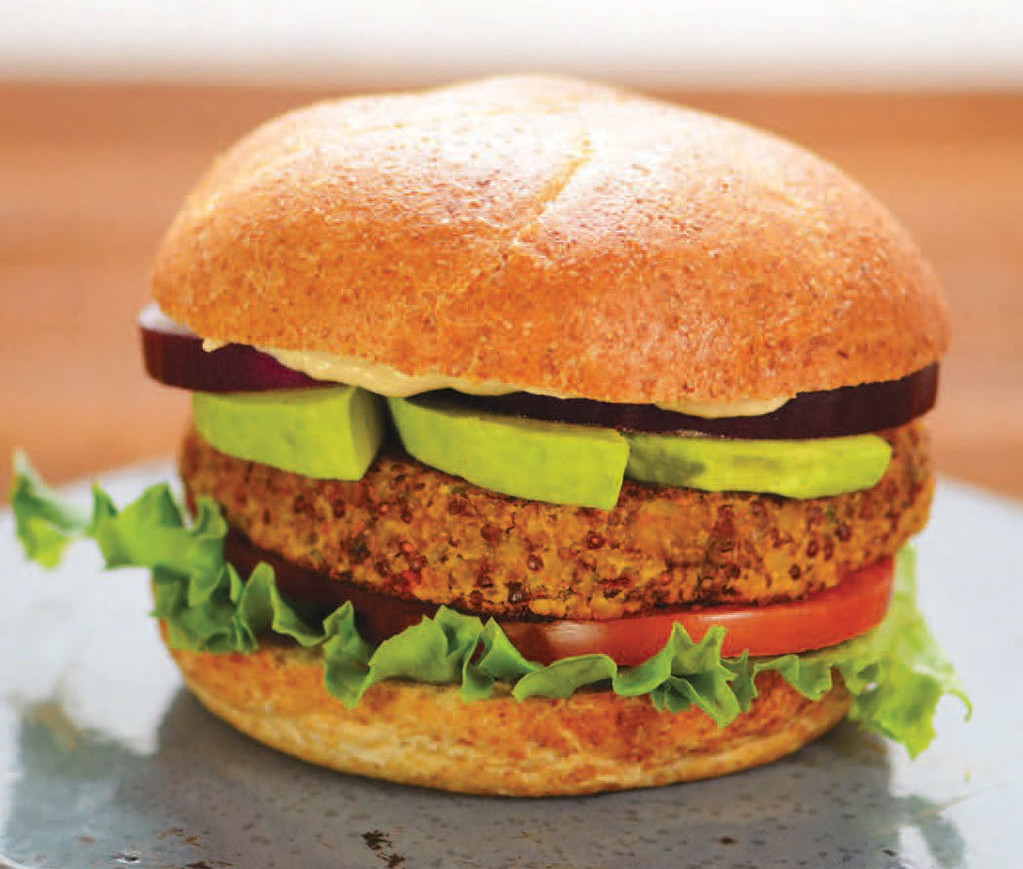 2 cups raw almonds
1 ½ tablespoons tomato paste
½ teaspoon dried rosemary or 1 ½ teaspoons fresh rosemary leaves
¼ teaspoon sea salt
1 small-medium clove garlic, cut into quarters
2 tablespoons balsamic vinegar
1 tablespoon tamari or coconut aminos or soy sauce
¾ – 1 cup sliced green onion
½ cup sun-dried tomatoes (pre-sliced, or chopped before adding to processor; see note)
1 ½ cups cooked and cooled quinoa (can substitute brown rice)
In a food processor, add the almonds, tomato paste, rosemary, sea salt, garlic, balsamic vinegar, and tamari.
Puree until the nuts are very finely ground. Be sure to grind them fine enough so that the almonds release some oils and become a little sticky; that will help bind the burgers.
Then add the green onion and sun-dried tomatoes and pulse through until the mixture becomes dense and starts to hold together. Add the quinoa and process/pulse through again until well incorporated.
Refrigerate for half hour, as it helps make it easier to shape the patties.
After chilling, take out scoops of the mixture and form burgers in your hands. I scoop generously with an ice cream scoop, roughly ⅓ – ½ cup for each.
To cook, heat a nonstick skillet over medium heat. Cook the patties for 5 – 7 minutes on the first side, and then another 3 – 5 minutes on the second side until golden brown. These patties hold their shape well, but if they are flipped a lot and overcooked they become more crumbly and dry.
Serve with the fixings of your choice.
Sun-dried tomatoes note: Some varieties and brands of sun-dried tomatoes can be very tough and hard, and others quite soft. If the ones you have are soft, go ahead and add them straight – but if they are very hard, it is useful to soak them in boiling water fora few minutes first.

These scrumptious and healthy veggie patties were created by Dreena from Plant Powered Families. Check out loads of delicious recipes and articles in next edition of Healthy Mama Magazine. Click below to subscribe to our NEW DOUBLE-SIZED editions…x
---
Grab Your FREE Issue Today!
Join 1000's of mama's who are creating the best possible health for their families and their little happy souls.
[x_subscribe form="2864″]
Subscribe below to keep all your issues on your device everywhere you go.