Anna Maria Russell, Duchess of Bedford, Inventor of Afternoon Tea
I
t may seem frivolous to many, especially considering the other Goodness Heroes we have chosen to honor in the Magazine over recent months. But we beg to differ on this one occasion. We are all familiar with that 4pm slump. It comes everyday without fail and many a nutritionist and food blogger have tried to tackle its voracious grip on our psyches and productivity. When all is said and done, no bliss ball or power bar munched between emails, phone calls and school pick-ups can supplant the superior nourishment (both nutritional and emotional) of a proper afternoon tea with the ladies.
Hence this month we honor the esteemed Anna Maria Russell, Duchess of Bedford, Lady of the Bedchamber, sister-in-law to the Prime Minister, dear friend of Queen Victoria and most importantly inventor of Afternoon Tea.
Seeing a physiological gap occurring between the Victorian light meal of luncheon and the increasingly late meal of dinner the Duchess started to invite her girlfriends over for tea, cake and sandwiches to make up for the painful emptiness that lay between.
We suggest that you create your own Afternoon Tea tradition with your girlfriends. Either at home or at a favorite cafe. Here's to saving our sanity with cake and tea! Thank you Duchess!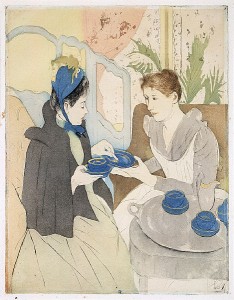 ---