Kristin from Mamacino always knows how to get our taste buds jumping. This paleo salad has become a regular feature for lunch or a light dinner. The nutrient dense spinach and the creamy pumpkin along with the bite of the haloumi and the crunch of walnuts makes this paleo salad the Healthy Mama new go-to munch fest. 
Spinach, Pumpkin and Haloumi Paleo Salad with Toasted Walnuts
By Kristin from Mamacino
Serves 4 Time: 30 mins
This salad is delicious and filling – a great lunch option on it's own or maybe served with some grilled chicken or beef for a winning dinner.
4 large handfuls (or one big bag) of fresh, washed baby spinach leaves
½ lb/250g Halloumi Cheese, sliced into ¼ in/0.5 cm thick slices
½ butternut pumpkin cut into cubes
½ cup walnuts, lightly toasted
Olive or coconut oil
Sea salt
Freshly ground pepper
Pre heat your oven to 360ºF/180ºC and place pumpkin on a tray lined with baking paper. Drizzle with a little oil and season with salt (not to much) and pepper.
Bake for around 15-20 minutes or until golden and cooked through.
Heat a medium sized fry pan and add a little oil. Once the fry pan is hot, add your haloumi cheese and fry until golden on both sides. Remove the pan from the heat once cooked.
Divide the spinach between four bowls and top with the golden pumpkin and the grilled haloumi. Scatter over lightly toasted walnuts.
Drizzle with this sensational balsamic dressing just before serving.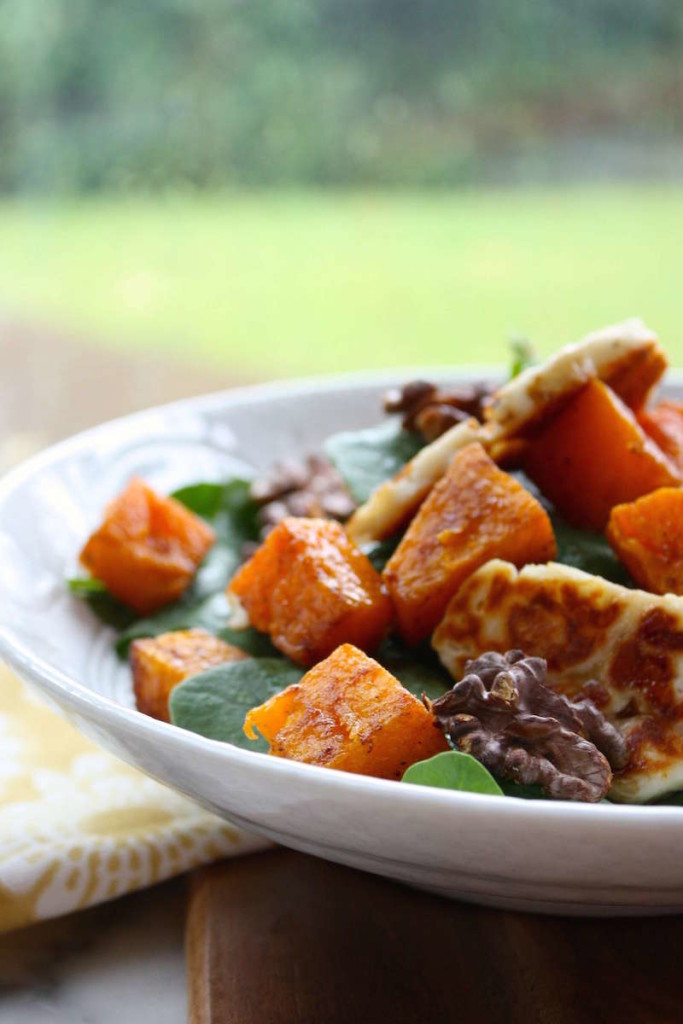 Simple Balsamic Dressing
3 tablespoons balsamic vinegar
3 tablespoon extra virgin olive oil
1 tablespoons maple syrup
¼ teaspoon salt
Place all ingredients in a jar and shake it off, shake it off!
Tip: Make a double batch of balsamic dressing to be used at another meal – it lasts up to five days in the fridge.
This amazing super salad was created by Kristin from Mamacino. Check out more delicious recipes in next edition of Healthy Mama Magazine. Enjoy your FREE subscription below…x
---
Enjoy Your Full FREE Subscription to Healthy Mama Magazine Today!
Join 1000's of mama's who are creating the best possible health for their families and their little happy souls.
[x_subscribe form="2864″]
OR