C
hickpeas are a great source of protein and fiber so they are naturally more filling than most processed empty calorie snack foods and are so versatile that you can season them differently each time you eat them! Popcorn has recently taken a backseat in our house since we have discovered this roasted chickpea snack! They are extremely versatile and simple to make, and they satisfy any chip-lovers need for a crunchy snack!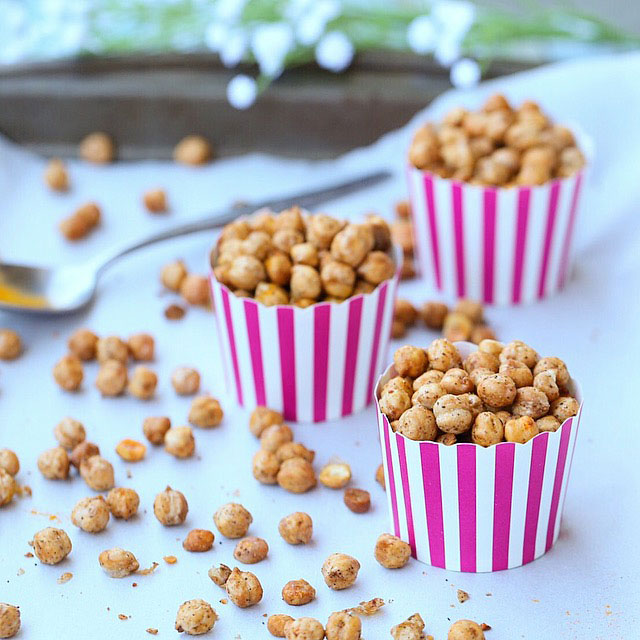 Roasted Chickpea Snack AKA Chickpea Popcorn
1 can of chickpeas (Healthy Mama recommends soaking and cooking your own – see below)
3-4 tablespoons of oil of choice (coconut or macadamia nut oil works well)
salt & pepper
seasonings of choice (garlic powder, dried rosemary, turmeric etc)
Rinse and drain chickpeas.
Roll them gently between two towels to dry thoroughly and then toss them in oil, sea salt and any other spices you choose. Today I used salt, pepper, garlic powder and my new favorite spice, turmeric.
After seasoning, place them on parchment paper and bake at 350 – 375°F/176-190°C for a total of 30-40 minutes, tossing them half way through.
Allow them to cool and crisp up a bit more on the baking sheet after you take them out and keep them in an airtight container for approximately 3-5 days…if you don't eat them before then!
Prepare your own chickpeas: Soak dried chickpeas overnight in fresh water. Rinse the water if you are soaking throughout the day. Simmer in just enough water to cover for an hour or until soft and tender. You can use the chickpeas for this recipe straight after soaking without cooking – will deliver a more crunchy texture.
This delightful recipe is available in the full edition of Healthy Mama Magazine and is by Marlies from Hartmann Health.
---