G
nocchi is an all-time favorite of mine! My entire family absolutely loved this recipe which is a healthy sweet potato version – it was equally as delicious as the traditional dish. Free of white flour and white potato, making it a hit not only for your taste buds but also your waistline!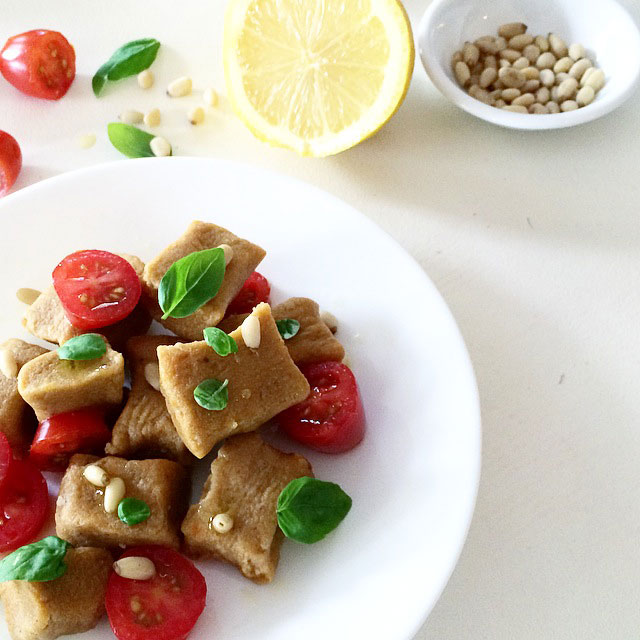 Buckwheat Sweet Potato Gnocchi
3 sweet potatoes (around 25oz/700g), roasted and puréed
1 1⁄2 cups buckwheat flour (just blend or mill some buckwheat)
1 egg (or vegan replacement e.g. chia egg will work perfectly)
2 tablespoons Parmesan (optional)
1 clove crushed garlic salt and pepper to taste
LEMON OLIVE OIL:
1⁄3 cup olive oil
2 tablespoons lemon zest 1⁄2 teaspoon minced garlic salt and pepper to taste
TOPPING:
1⁄2 cup pine nuts
halved cherry tomatoes basil leaves
sprinkle Parmesan (optional)
NOTES:
How to make a chia or flax egg?
Add 1 tablespoon of chia seeds OR ground flaxseeds plus 3 tablespoons of water. Mix thoroughly and let sit for 10min to form a jelly. Use as you would one egg.
The FULL delightful recipe is available in the full Special Orange Edition of Healthy Mama Magazine and is by Sophie from Coconut & Bliss.
---