I
'm soooooo excited to announce something very very very special which we have been brewing behind the scenes for you. We know how important it is to deliver such a deliciously beautiful magazine for you every month and honestly (without any bias…ok, maybe just a little), it is becoming more and more beautiful every single issue.
This month, we're SO incredible pleased to update and refine our name to what has been there all the time. Drum roll please…
This month is ULTRA special because we are doing something we all know was bound to happen eventually. We've been speaking with you all and interacting with you via social media and it's clear we are made especially for you carers, whether you're a MAMA, papa, grandmama, grandpapa, aunt, uncle and the list goes on of all the wonderful beings who nurture and care for the little people in our lives.
This name encompasses all those nurturing mothering beings in our lives…it's for them and for those whom they nurture. It brings together all that is healthy for the heart, mind, belly & soul. It's an absolute delight to read. It makes you feel good. And more importantly, it delivers super easy, fun recipes for us, our families and our kids.
Because happy children mean a happy life. It is my absolute pleasure to bring you the SPECIAL EDITION of Healthy Mama Magazine this February 2015 – Issue 8.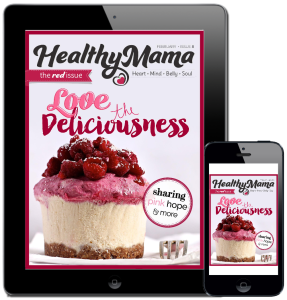 Want more good news?
Well, it's also the beginning of our very special COLOR COLLECTION. This will be limited (obviously!) so you want to make sure you subscribe right now so you get your hands on the very first and super delicious RED EDITION (February 2015). Oh My Goodness! It is quite honestly a gorgeous feast for your senses…you will love it.
Our designer Richelle has created a piece of digital art and you won't want it to end. Our amazing curator and editor Danni & I have thoroughly enjoyed bringing together the recipes & articles that will make you laugh, cry & everything in between!
So sit back and enjoy the all new Healthy Mama Magazine.
---