W
e took some time to speak with Meagan Genovese about Family Rhythms which has become an important part of her life. She shares with us some of the ways she incorporates nature and kids in their lives with ease.
What is a Family Rhythm?
Whole Family Rhythms are a series of seasonal and monthly guides created and designed to inspire a peaceful and flowing rhythm in your home.
I can imagine that for families who are struggling to find harmony the Whole Family Rhythms can be really helpful guides. What kind of response have you had, any stories you can share with us?
I have had many Mums contact me to say they love the rhythms and use them frequently in their home. What I love most about the stories these women share is that they have taken Whole Family Rhythms and created their own unique rhythm to suit their family. My rhythms are designed to be tweaked, changed and played with so that they can suit every family based on their own values, schedules and demands. I was touched when one Mother, Lucy, shared her feelings of intimidation by the concept of storytelling for her young children but who now loves and embraces it and has created a gorgeous storytelling culture in her family now.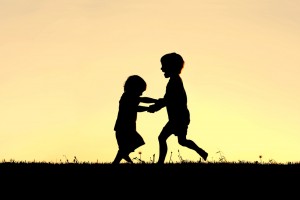 Many friends who live in cities tell me how they find it hard to connect with nature and to bring their kids in touch with the natural world. How can these families benefit and adjust the rhythms to their environment?
My family also live in the city so almost everything I have ever written about on the old blog and within all the Whole Family Rhythms guides is designed for urban families. Even if you live in the city you can still go on bushwalks or hikes to local parks or farms. Even if you have a patio without a grassy yard you can still urban garden with pots and containers. My biggest advice for families who live in big cities is not to get too carried away with after school acti- vities, especially for young children.
Here are some ideas on living with nature in small spaces
Create a nature table, shelf or corner. This is a space that can change with the seasons. For example leaves collected from the local play park in the fall can be complemented by wooden figurines, felt shapes in different shades of brown, red and orange and a mini pumpkin.
Ask your florist if they can stock some local, native flora to decorate your home
Spend time in green spaces as often as possible. Even the local par will contain a million different life forms. Exploring the corners of the
park can reveal all sorts of interesting creepy crawlies and miniature ecosystems.
Enjoy reading the rest of this article in issue 3 of Healthy Mama Magazine (formally The Goodness Magazine).
…
Interview with Meagan Genovese exclusively for Healthy Mama Magazine.
---