Easter is here…please remember to be kind to the Easter bunny… Check your labels and make sure your personal care products do not test on animals and go dairy free whenever you can…x
You know those times when you feel like chocolate…but it's one of those times where a piece of chocolate won't do…you need something deeper, richer…a mini taste explosion of pure goodness in your mouth. And if you're like me, I only crave chocolate once or twice a month (to this level) and when I feel the craving coming on…there's no stopping it…
I. Must. Find. Deliciousness. Immediately.
So what do I do? Well, for starters, I take a deep breath and DO NOT devour the first chocolatey thing in my vicinity…I do however reach for this moist gluten free brownie recipe! Trust me people, it's melt-in-your-mouth-goodness…and be sure to keep a glass of chilled plant based milk handy for in between mouthfuls of pure amazingness coming your way…x
Moist gluten free brownies
1  1/4 cups almond meal (I just pulse the organic almonds in my mixer until a fine powder – not clumpy)
100g dark fair-trade chocolate (can be dairy free)
5 Medjool dates (pitted)
3 eggs (or 2 eggs and 1 tablespoon of flaxseed meal and 2 tablespoons of water)
1/4 cup coconut oil
1/4 teaspoon baking soda
1/8 teaspoon salt
Note: if doubling quantities, use 5 eggs and not 6.
Chocolatey ganache sauce
50g (or less) dark fair-trade chocolate (can be dairy free)
1/4 cup organic coconut milk/cream
Mix/Pulse almonds, baking soda and salt until a fine meal.
Add chocolate and pulse.
Add dates and pulse.
Add eggs and pulse.
Add coconut oil and pulse.
Pour into baking dish lined with baking paper.
Bake at 175C for 10-15min or until knife comes out semi clean but not too clean…we want a gooey consistency. Up to 20min or more depending on your oven – please check as you go.
When the brownie comes out of the oven, melt the chocolate and coconut milk on very low – should take around 5 min or so.
Now, I can be pretty impatient so I put it straight into a glass storage container and pour the melted chocolate all over it and it looks like chocolate pie…OH MY GOODNESS!! This will blow your chocolatey mind. And then, it gets even better. Once you've had your fix (small and in moderation;), place in fridge (do not allow any child under 5 to come near this) and it will set into a delicious gooey moist brownie…mmm…tasty adult treat…x
We're all about honesty and keeping it real here…so here's a total fail photo of the brownies when they came out of the oven!! My family and I laughed so hard at this pic, we almost cried…sharing the goodness…x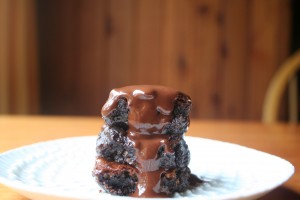 UPDATE: I made this incredible recipe recently when visiting my dad in the States and on this occasion, there were only 2 eggs in the fridge and the store was more than a short walk away in the rain. I even called the neighbors to no avail! So, I replaced the third egg with a tablespoon of flaxseed meal and two tablespoons of water and it turned out EVEN better than before! So, I highly recommend the flaxseed replacement alternative if you're short on eggs 🙂
By Bamik H
---