O
h good gracious. I'm really stumped for words…because all I can do is stare at this photo and drift into a happy fantasy where I am eating,
no…devouring?…destroying?…this burger again.
This recipe was inspired by "The Porto" sandwich from Marie Cartib's in Grand Rapids, Michigan. That place…wooooooow. Haven't been disappointed by anything there. Their portobello sandwich has a vegan garlic mayo, fresh basil, and is big enough for two. My sister and I like to split it, and order their hummus and veggies on the side. So yum.
Portobello caps are so meaty, they really make the perfect "burger". Soooooo, they should please both the vegetarian and meat eaters in the family! We marinated ours in a balsamic onion glaze, melted a smoked provolone cheese over top, and completed the tower with caramelized onions. Dang it, fantasyland again…
Try to find the largest portobello caps you can. Mushrooms shrink down more than any other veggie I've met. I thought the ones we bought were too big (seriously looked like frisbees), but they ended up being the perfect size. We used brioche onion rolls from the deli, but feel free to go bun-less, or use a gluten free roll if you have an intolerance!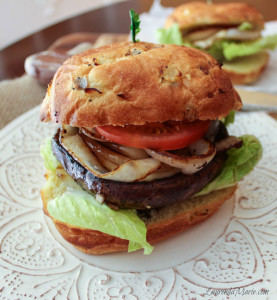 Marinated Portobello Burgers with Smoked Provolone and Caramelized Onions
By Laurenda Marie from LaurendaMarie.com | Serves 4
For the Marinade
⅓ cup extra virgin olive oil
2 tablespoons balsamic vinegar
1 tablespoons white wine vinegar (Goodness recommends apple cider vinegar)
2 cloves garlic, minced
½ small white onion, chopped
2 teaspoon honey
pinch of salt
For the Burgers
4 large portobello mushroom caps
4 slices smoked provolone cheese
1 large white onion, sliced thick
1 teaspoon coconut oil
1 tablespoon butter
½ teaspoon granulated garlic
salt & pepper to taste
4 brioche buns
lettuce & tomato for topping
Whisk together marinade ingredients, add chopped onion, and pour over mushroom caps in a bowl or container. Cover and chill for at least 3 hours.
Warm a skillet and melt coconut oil and butter over low heat. Add sliced onions, garlic, salt & pepper and saute until soft and caramel in color, about 10 minutes.
Meanwhile, warm a griddle over low/medium heat. Cook portobello caps for about 10 minutes, flipping halfway. Add provolone cheese near end and continue cooking until melted.
Assemble burgers and devour!
Notes: Avocado and dijon mustard would be great, healthy toppers if you want to spruce them up even more!
This delicious burger was created by Laurenda Marie from LaurendaMarie.com. Check out loads of delicious recipes and articles in next edition of Healthy Mama Magazine. Click below to subscribe to our NEW DOUBLE-SIZED editions…x
---
Grab Your FREE Issue Today!
Join 1000's of mama's who are creating the best possible health for their families and their little happy souls.
[x_subscribe form="2864″]
Subscribe below to keep all your issues on your device everywhere you go.