One of my favourite things about this time of year is gingerbread cookies.  I remember going to the bakery near our home as a child and picking out the best one from the tray. I had a very particular way of eating them. First the legs, then the arms, then the body and lastly the head. Mmmmm that chewy, gingery, warming deliciousness…
These days I am a little more aware of what goes into my body but still to this day gingerbread cookies always take me right back to my eight year old self. Luckily, Cortney from the Daily Pea has come up with this healthier gingerbread recipe. Now I can enjoy my addiction of gingerbread cookies without the guilt (or the side effects). Of course in the olden days they were always gingerbread men but I make sure that in our house we have ginger bread people (and dinosaurs, and sharks, and whatever else takes my son's fancy). Because lets face it, gingerbread people taste amazing no matter what their shape!
Healthy Gingerbread Cookies
By Cortney Munro from The Daily Pea
½ cup organic coconut oil (virgin and extra-virgin have a mild coconut flavor and refined or expeller pressed are tasteless)
½ cup plus 2 tablespoons molasses (I used mild)
¼ teaspoon organic vanilla extract
½ cup organic light brown sugar
2 egg whites (pastured eggs)
2 ¾ cups organic whole wheat pastry flour
½ teaspoon sea salt
½ teaspoon baking soda
1 teaspoon organic ground ginger
½ teaspoon organic ground cinnamon
½ teaspoon organic ground cloves
½ teaspoon ground black pepper
For more deliciousness click on the links below!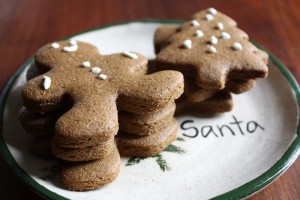 ---