T
ake your mind off thinking of what to create up for your fussy household this month with these super healthy dinner ideas. In the 'Eats' section of The Goodness this month, you can cater for the burger lovers in your house (my husband:), veggie noodles, lunchbox ideas and even delicious fish cakes that barely taste like fish (in case you have one of those Omega 3 non-lovers in your home.
So simple to make and so versatile, you'll simply love what's in store.
In the August issue of Healthy Mama (formally The Goodness Mag), you can look forward to getting your hands on these delicious savory meals:
Turkey lemon and feta mini burgers (which you can make into little patties and pastry rolls – done 3 ways!)
Healthy fish cakes – that even the fish phobic will love!
Rice paper rolls – perfect for kids lunchboxes
Green tea soba noodles – my favorite!
Lemony risotto with asparagus
Tasty lettuce wraps – proven to be loved by kids!
All of these tasty meals are actually perfect for take-to-work lunches or changing up the boring old sandwich for your kids lunchboxes. My personal favorite was definitely the burgers and mini balls for my partner and the green tea soba noodles for me…mmmm…sooo tasty:)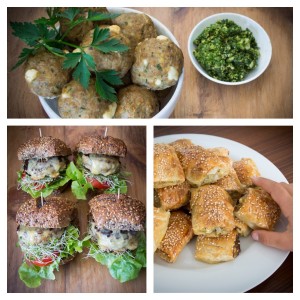 Enjoy all these healthy dinner ideas in the August 2014 Issue of Healthy Mama Magazine (formally The Goodness Magazine) together with many more healthy snacks, treats & kids recipes all-in-one place.
By Bamik H
---