T
his healthy chicken and rice noodle salad is fresh and green for summer but would also make an excellent autumnal lunch or dinner. A healthy and hearty salad recipe that can be prepared in minutes using rice noodles and chicken.
Healthy Chicken Rice Noodle Salad
By Jemma from Celery and Cupcakes
Serves 4 Time: 35 mins
4 cups rocket
2 cups pre-cooked puy lentils
1 cup petit pois (peas, can use canned but Healthy Mama suggest using fresh peas or other greens)
1 cup cooked edamame beans
¼ cup radishes sliced
4 spring onions sliced (scallions)
3 cups rice noodles
1 big bunch of coriander leaves (cilantro)
2 cooked chicken breasts sliced (or protein of choice)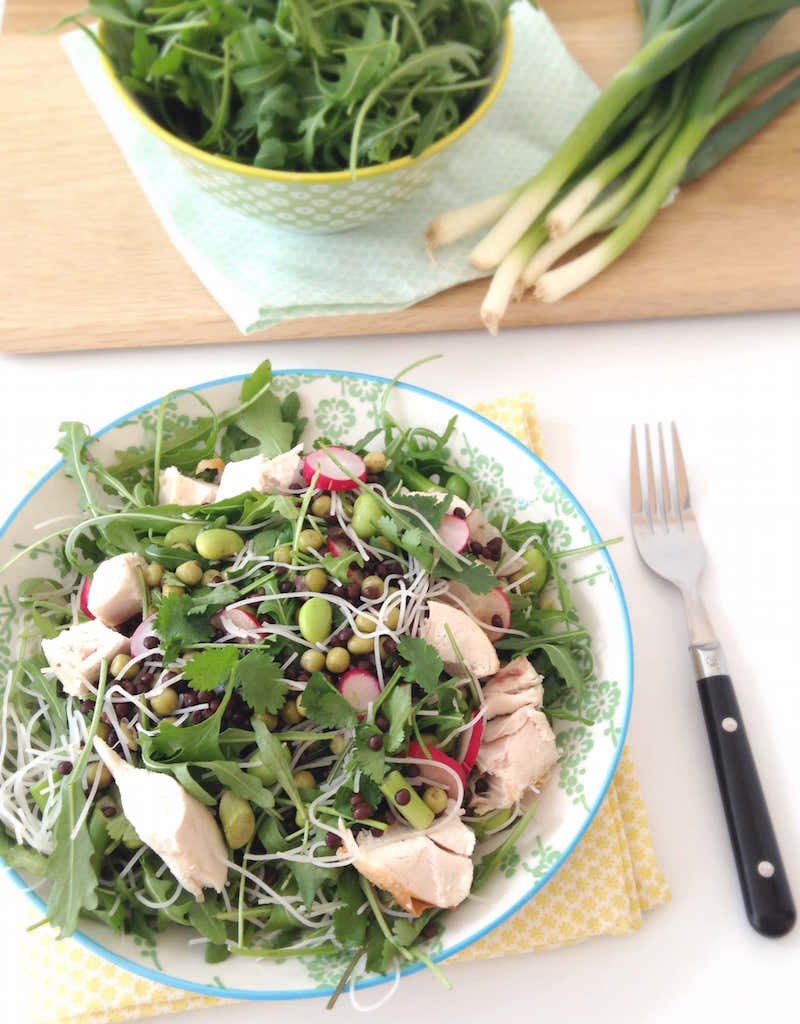 Wash and prepare the vegetables, roast the chicken breasts and cook the edamame beans and rice noodles by simply warming them through in the microwave.
Allow the chicken breasts, edamame beans and rice noodles to cool.
Mix the prepared vegetables into a bowl with the edamame beans, petite pois, puy lentils and rice noodles.
Chop the coriander leaves and add to the vegetables with the rocket leaves.
Stir the ingredients together making sure that they are evenly distributed and the noodles are not clumped together.
Mix in the sliced chicken breast and top with your favourite salad dressing.
Serve and enjoy!
NOTES:
To make this vegetarian you can omit the chicken. This salad would also work great as a side salad or as a main.
Healthy Mama delicious dressing option
Blend ¼ cup cashews until powdered. Blend in ¼ cup olive oil & ¼  cup fresh squeezed lemon/lime juice until thick. Add ¼ cup or more of water to thin out and add a squirt of honey to taste.
This Healthy Chicken and Rice Noodle Salad was created by Jemma at Celery and Cupcakes. Enjoy this recipe plus so many others in Part 2 of the Yellow Edition of Healthy Mama Magazine. Enjoy your FREE subscription below…x
---
Enjoy Your Full FREE Subscription to Healthy Mama Magazine Today!
Join 1000's of mama's who are creating the best possible health for their families and their little happy souls.
[x_subscribe form="2864″]
OR