This gluten free goodie is one of our favourites as it has no sugar but we pour raw honey on top straight after it comes out of the oven so the gooey goodness seeps into the muffin before it cools. The other night, we enjoyed these straight from the oven with blended frozen bananas (banana ice cream) and a little melted coconut chocolate ganache (dark fair trade chocolate melted in a pot with a few tablespoons of coconut cream) on top…simply delish!
Well, I guess you could call this a gluten free banana bread or muffin or cake – it simply depends on what tin you bake it in!
Gluten Free Almond Banana Muffins with Honey
4 ripe bananas
4 free range/organic eggs
1/3 cup macadamia nut oil or cold pressed grapeseed oil
1 teaspoon vanilla
1 tablespoon honey (optional)
2 1/2 cups almond meal (finely ground almonds)
1/4 cup ground flaxseed
1/2 cup fine desiccated coconut or coconut flour
Makes just under 2 dozen muffins or 2 small loaves
Several tablespoons of raw honey to dribble on top when it comes out of oven.
Smash the bananas first and then add the eggs, oil, vanilla & honey. Gently mix until most of the banana is mixed in well – doesn't need to be perfect. Finely ground the almonds to make your almond meal and add together with flaxseed and coconut flour. Spoon into muffin tray (lined with cupcake papers) and bake for 15-20min depending on oven on 160C. Dribble with honey as soon as they come out of the oven and enjoy.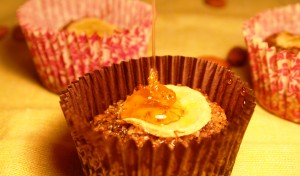 This is my son trying to grab one while we were taking pics 🙂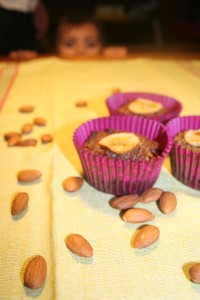 By Bamik H
---