Pesto is one of those things that every parent needs to have in their kitchen arsenal. It is a guaranteed crowd pleaser, quick and easy to make and with a few tweaks it can be nutrient dense and super healthy. Here at Healthy Mama HQ we have been known to throw in a fair amount of greens into a pesto which the kids slurp up without even knowing. This Dairy Free Pesto from Mamacino is the perfect way to get in some essential minerals from nuts while also replacing the traditional cheese factor. Play around with this dairy free pesto recipe – there are a million combinations.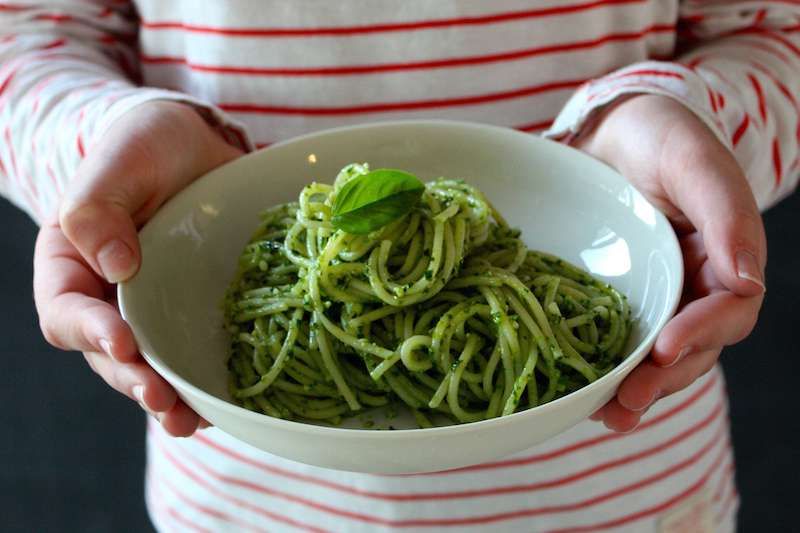 Easy green pesto
By Kristin from Mamacino
Pesto is such a versatile thing to have in the fridge and a delicious way to add extra nourishment to your meals. My kids love it stirred through pasta, dolloped on roast chicken or used to brighten up a salad sandwich.This spinach and cashew pesto is a great twist on the original version.
About 3 handfuls of washed and dried baby spinach leaves (or can use parsley)
1 clove of garlic, crushed
1 tablespoon of lemon juice
150g/2 cups of cashews (HM tip: if running out of cashews, use half walnuts)
½ cup of extra virgin olive oil
Salt to taste
Put your spinach leaves, garlic, cashews and lemon juice in a food processor and chop finely.

Add the olive oil and blitz again. You might like to add some more olive oil if you like your pesto oozy.

Mix with ready made pasta, add to fish or chicken, spread on toast. The options are endless.

Transfer to a clean jar and store in the fridge for up to a week.
This nutritious dairy free pesto was created by Kristin from Mamacino. Check out loads of delicious recipes and artciles in next edition of Healthy Mama Magazine. Enjoy your FREE subscription below…x
---
Enjoy Your Full FREE Subscription to Healthy Mama Magazine Today!
Join 1000's of mama's who are creating the best possible health for their families and their little happy souls.
[x_subscribe form="2864″]
OR