I
haven't had Nutella since I was a student traveling in Europe decades ago with a EuroRail pass, sleeping in youth hostels. Back then we used to eat the chocolate stuff for breakfast. These days, I find the real thing a
little too sweet for my taste. So I was happy to see a version of it in the Los Angeles Times – what a great idea! And the perfect starting point for a version of my own.
My chocolate hazelnut spread had a consistency that was a bit stickier or gummier than peanut butter. If you want to thin out your spread, add more hazelnut oil. I think this treat has a very similar taste to Nutella, though find the consistency not as creamy. Everyone in my house still seemed to enjoy it as it vanished pretty quickly. Even though it's not exactly the same thing, I like having a decadent treat and at the same time knowing exactly what's in it! …. Yummy!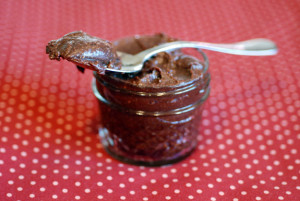 Chocolate Hazelnut Spread
By Elana Amsterdam from Elana's Pantry | Makes 1 ½ cups
1 cup hazelnuts
¼ cup cacao powder
5 tablespoons agave nectar or honey
1 tablespoon vanilla extract
1 tablespoon hazelnut oil
pinch celtic sea salt
Roast the hazelnuts at 350°F/180ºC for 8-10 minutes until they darken a bit and smell fragrant.
Transfer the hazelnuts to a towel and rub off the skins if you can (I didn't have a lot of luck with this).
In a food processor, grind the hazelnuts to a smooth butter, about 5 minutes, scraping the sides as needed.
Add the cacao, agave, vanilla, oil and salt and process until well blended, about a minute
Store in a glass mason jar in the refrigerator.
Bring to room temperature prior to serving.
This dreamy chocolate hazelnut spread was created by Elana from Elana's Pantry. Check out loads of delicious recipes and articles in next edition of Healthy Mama Magazine. Click below to subscribe to our NEW DOUBLE-SIZED editions…x
---
Grab Your FREE Issue Today!
Join 1000's of mama's who are creating the best possible health for their families and their little happy souls.
[x_subscribe form="2864″]
Subscribe below to keep all your issues on your device everywhere you go.